Jurassic World: Dominion Dominates Fandom Wikis - The Loop
Play Sound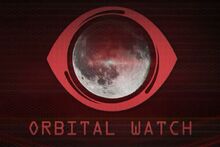 Orbital Watch is a organization based on the Moon in Anno 2205. Hostile towards Global Union's recent efforts to complete the Lunar Licensing Program, they conduct various terrorist attacks throughout the world, causing chaos and destruction. They have an unusually large presence on Earth, which Drake somehow amassed.
History
Post-First Wave of Lunar Colonization
After Global Union orders numerous corporations to abandon the Moon, they leaving behind the Lunar Excavation Corporation. However, Orbital Watch arises and radicalizes in its wake, claiming independence for the Moon and its people.
Second Wave of Lunar Colonization
Orbital Watch first present themselves when assaulting a crucial shipment that is intended to your corporation's spaceport. They then show a video giving the player a brief description of who they are and why they do what they did.
Orbital Watch also appears once the player upgrades their Arctic Spaceport, and take hold of several key Arctic Custodian Climate Stabilizers that maintain the global climate.
Most characters in the game calls them terrorists as they often attack unarmed civilians. However, they possess massive naval fleets and assets on Earth, despite the fact that they are based on the Moon. Even their largest ship, the (Leviathan?) is larger than Titan, the player's unofficial military flagship.
Vehicles
Hunter
Hedgehog
Drone Carrier
Eradicator
Maintainer
Commando
Structures
Defenses
Sea Turret
Fortified Tower
Military
Shipyard
Command fortress
Storage
Iridium Storage
Petrochemical platform
Magnetite Storage