Jurassic World: Dominion Dominates Fandom Wikis - The Loop
Play Sound
Most ships in Anno 2205 are only in the military - an exception to the Command Ship and Container Ship.
John Rafferty watches over the player's fleet, encouraging the player to carrying out upgrades. Ships may be upgraded up to three different ranks, improving their abilities: Veteran, Elite, and Master. These abilities are gained through combat experience. Ships sunk during combat missions are replaced after the mission is over. They will either keep their current upgrade level or start out fresh depending on the difficulty setting.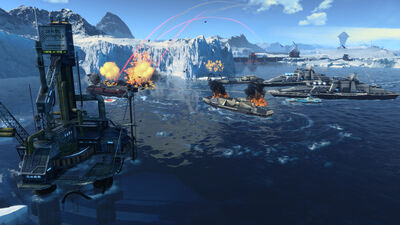 In Anno 2205, there a shift made by the game developers. There is no shipyard, and the only way to acquire ships is by advancing in corporate rank. The normal cargo ships that the player would normally be built by the players are no longer necessary. Intra-sector transportation is no longer necessary as resources are no longer based on a single island and trading with NPCs occurs instantly.
With the Frontiers DLC, warships can now be utilized in temperate and arctic regions to fend off Orbital Watch assaults and resolve hostile events in such regions.
| Image | Ship Name | Description |
| --- | --- | --- |
| | Titan | Command ship of the corporation's fleet, the Titan, is effective at both defense and offense. Upgrading this ship increases the fleet's fuel bar and losing it makes fleet abilities unavailable for the current mission. |
| | Turtle | The most durable ships in the fleet, these ships will move in front of the fleet by default to draw enemy fire. Their torpedoes are the least damaging weapons you can field however. |
| | Spark | The most damaging ship type in the fleet, these ships fire energy projectiles that damage multiple enemies at the same time. They have very thin hull and should avoid damage if possible. |
| | Flare | Long range attack ship that does high damage and is very effective at destroying structures. |
| | Stinger | The most damaging ship type in the fleet, these ships fire energy projectiles that damage multiple enemies at the same time. They have very thin hull and should avoid damage if possible. |
| | Glacier | The most durable ships in the fleet, these ships will move in front of the fleet by default to draw enemy fire. Their torpedoes are the least damaging weapons you can field however. |
| | Monsoon | Long range attack ship that does high damage and is very effective at destroying structures. |
| | Blizzard | The most damaging ship type in the fleet, these ships fire energy projectiles that damage multiple enemies at the same time. They have very thin hull and should avoid damage if possible. |