See also Arctic Buildings, Lunar Buildings.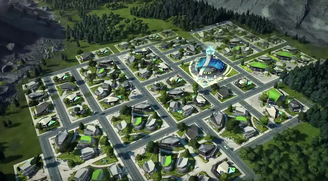 Introduction
The buildings are created in the Temperate Region, organized by employee levels.
Workers

At the start of the game the Residence is available. It is your first available form of housing Population and as such the keystone to your entire corporation. When constructed and connected to a Street connected to a Warehouse it will start to fill with Workers. These workers will demand various goods and services, and in exchange they will provide Workforce and Revenue. If all their needs are fullfilled, they are eligible to advance to Operators.
Operators

At the operator level, the Residential Complex becomes available. This can be considered an improved version of the Residence, since it encompasses 4 equivalent residences in one building. Although it takes up the same area as 4 residences, its construction and upgrade costs are merely 2 times the residence costs even though it houses 4 times as many people. Since it is also a single building, you need less roads to connect all houses to the warehouse. However, it is less flexible than the Residence and not as useful in tight environments. It is also the only type of housing that may advance to Synthetics level, Residences may not advance beyond Investor level.
With the Orbit DLC corporations may improve the Biomedical Laboratory to consume Bioresin instead of Synthcells, decreasing production costs drastically, using the Bioresin Breakdown technology in the Technology Nexus. At the operator level, players are also able to build Contstruct-O-Bots, and as such the game allows the construction of Monumental Bridges, increasing the available land area at the cost of a substantial amount of Biopolymers, Construct-O-Bots and Graphene. Take note that Operators are the first level of Population that does not need only the resources produced in its own sector biome. They also need Neuro Implants , which are produced in the Arctic . Executives and Investors also need Lunar products.
Executives
Investors
At 150,000 Investors the Corporate Headquarters becomes available, allowing incredibly dense supply of Information, Security, Mobility, and Entertainment, at the cost of a very expensive to construct and maintain structure. Its construction and expansion is the final step in the Lunar Licensing Program.