Ville Jorgensen is an NPC that operates a trading post in the Arctic Region.
He is a family member of Leif Jongersen and Tilda Jongersen, whom both appear in earlier Anno games, appearing in Anno 1404 and Anno 2070 respectively. Differently from the latter, Ville never seems to talk about his ancestors during gameplay, which could indicate that his not familiar with his ancestors back in the 2070's.
Description Given by Official Anno 2205 Facebook Page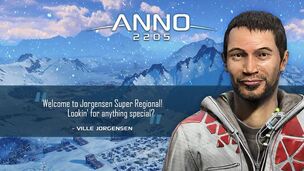 Age: 29
Affiliation: Arctic Custodians
Born and raised on Arctic Custodian soil, Ville has spent much of his adult life travelling the world until his wanderlust was overshadowed by acute homesickness. Ville's cheery and welcoming nature has always clashed with the Arctic Custodian's quiet and solitary mindset, but now he fits in less than ever. Dr. Howard Young diverted Ville's abundance of nervous energy to an unimportant trading post, which he ended up loving. After all it lets him meet new people and connect to the rest of the world.